SERVICES

ORGANISE. MONITOR. RESOLVE.
Deliver outstanding service to your end user, and manage your team's productivity. You've spent a lot of time and money getting your business to where it is today. Isn't it time you moved to an automation-run operation? Our greatest passion is to streamline your ICT service management workflow, making administration a breeze. This includes intuitive monitoring, end user management, interactive dashboards and holistic device oversight. Powered by SolarWinds®
Get a free status review today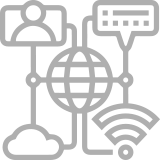 Download free trial

Understanding the critical network paths that deliver your business services is paramount to success.

Backup can help reduce the cost and complexity of data protection, without sacrificing speed or reliability.

Rely on automation to prevent, reverse and restore the effects of an attack, minimising downtime.
MAIL OVERSIGHT AND SECURITY

Stay in control of your mailing system using email continuity and long-term email archiving.

Invite, monitor and manage.
Gain oversight anytime and anywhere over all your mobile devices, for increased security and standardisation.

The single I.T. environment solution.
The remote, easy-to-use I.T. automation system that integrates all your I.T. needs into one simple dashboard.
PROVIDE YOUR DETAILS AND WE'LL CALL YOU
PERFORM. DELIGHT. EXPAND.
Unified Communications is the seamless integration of all your business communication services at enterprise-level quality. This allows you to scale up your operation with speed and efficiency, whilst maintaining communication consistency and clarity across all your touchpoints. Our expert team offers installation at *no cost to you, and free unlimited voice recordings on a month-to-month no obligation contract.
*No installation cost when signing a 24-month commitment. An Installation cost will apply when choosing a month-to-month contract.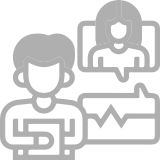 Get a free status review today
Try 3 months free

Scalability and cost-efficiency.
Get an enterprise-quality communication system using Voice over Internet Protocol (VoIP).

Mobility and productivity.
Cloud-PBX is your best solution for remote operations, customer satisfaction and increased bottom line.

High quality, customised solutions.
All data solutions we install include a highly responsive backup solution and 24/7 customer support.
PROVIDE YOUR DETAILS AND WE'LL CALL YOU
BOOK YOUR OBLIGATION-FREE IT STATUS REVIEW TODAY
BOOK YOUR OBLIGATION-FREE CONNECTIVITY STATUS REVIEW TODAY